Phrases like "digital transformation", "fuel economy", and "sustainability in supply chain" have become buzzwords across industries. However, their purpose, much like any other technology is to bring smiles to people's faces through sustainable solutions and advanced digitalization. Every organization in this industry is getting equipped and ready for transformation, not just at a digital level, but also to demonstrate agility, capability, and drive new change by leveraging technology completely.
At MSRvantage, we believe in deploying solutions E2E with making resilience, reliability, and agility, rooted in responsible practices that fosters sustainability throughout. Sustainability is a certain driving business imperative for us at all levels.
We are committed to help our partners, customers building prudent and sustainable offerings powered with our AI-enabled Blockchain solutions with our deep industry expertise that address all critical challenges of climate, fuel economy, reducing carbon footprint, and emission managements, among other things.
Over the last five years, Blockchain has become an integral and important part of the financial industry. Some people questioned it, others ignored it, while still others embraced Blockchain. Now, Blockchain has come knocking on the doors of other industries as well. This is because Blockchain allows for networking capacity that is truly amazing and never seen before.
Blockchain Fleet Management Solution
This phrase is not well known in the transport industry, but it soon will be! Rarely any other industry is experiencing the changes at a rapid rate as the transport industry is. It is likely that we will see self-driving vehicle fleets in the coming years. Then, of course, there is the environmentally-conscious move to electric vehicles. These two changes will have a major impact on fleet operators.
So how does Blockchain help in fleet management or smart fleet management for sustainability in supply chain? When we say Blockchain, you must be thinking of its very visible face, the bitcoin, right? Blockchain however is not limited to bitcoin but can be useful as a Blockchain fleet management solution! Most prominently, Blockchain will make it so the information or chain of information can only be accessed by the correct group of people in the trucking industry. It can be a one-stop shop for information exchange wherein fleet managers, owners, operators, vendors, employees, and others can access the information quickly and securely. This creates a level of efficient, secure, and transparent information exchange never seen before.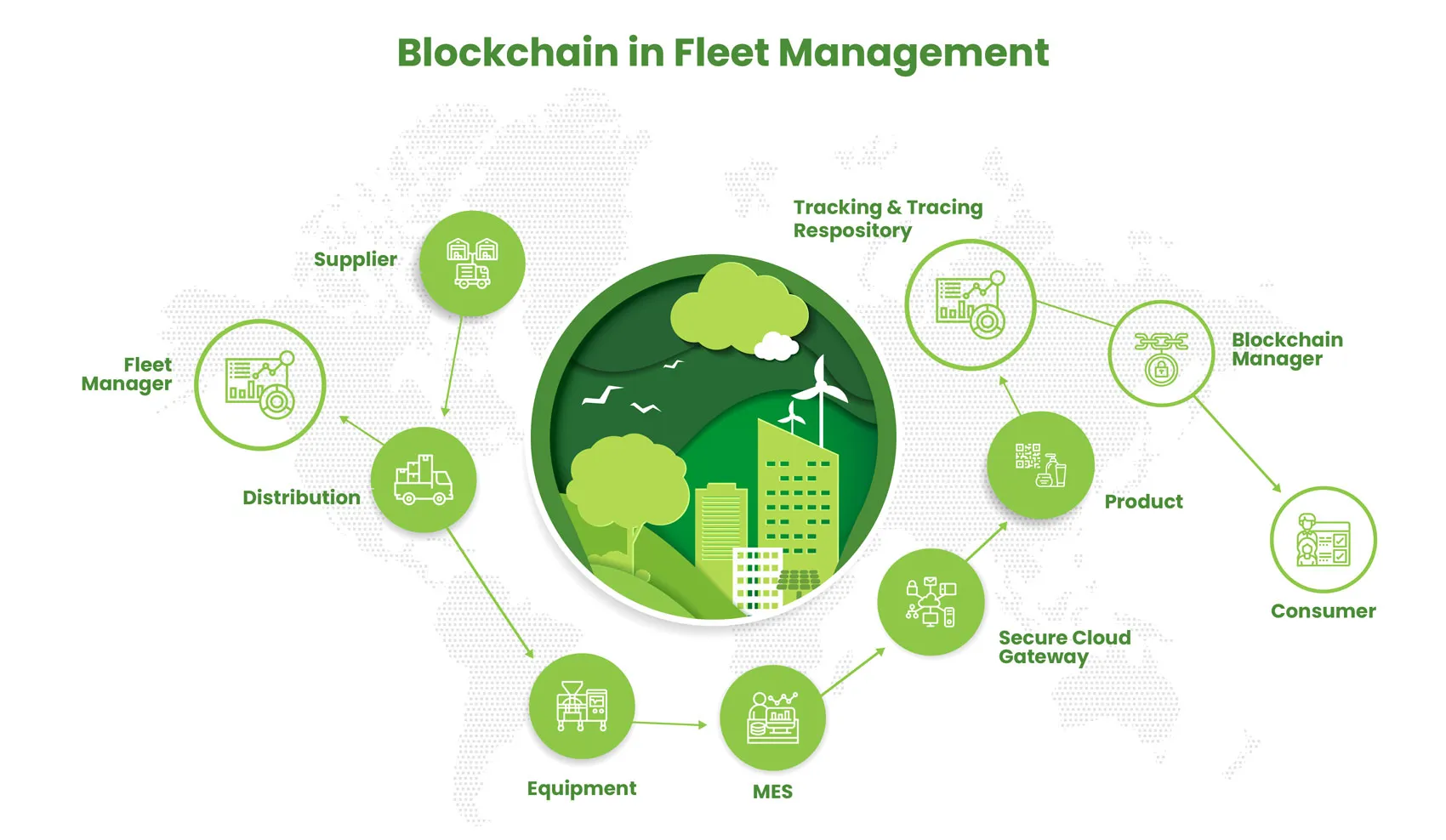 Blockchain is extremely secure and safe because the information or data being transferred cannot be lost during interactions. It enables transparency as all the authorized people can read what information is given in the ledger. Hence, Blockchain is extremely useful in fleet management and fleet tracking and routing.
Currently, the global Internet of Things (IoT) fleet management market is worth #3 billion, but it can rise to $13 billion by 2023. To make this happen, we need an innovative and out-of-the-box solution. Blockchain combined with low power wide area network (LPWAN) allows for such out-of-the-box thinking as it enables a range of transport sector solutions, including cost effective fleet management.
Driver Vehicle Condition Report (DVCR) can be applied to manage a fleet. Drivers may complete the report before they start the trip and after they end the trip. Though this is a manual process that relies on paper-based operations, it does track the condition of the transportation vehicles, collect data on safety and maintenance. It can be modified using the Blockchain fleet management solution.
How? Simply by automating this process and incorporating them into a Blockchain! This way all information attached to the equipment can travel with it during its lifetime. Instantly, we can verify inspection, maintenance, and other related information reports. Blockchain can change the transport industry as the Internet changed many industries in the 1990s. The fleet management ecosystem could entirely be replaced or revived, as per one's outlook.
Similar to the Internet, Blockchain is a decentralized system. Just like Google Maps helps us locate the nearest gas station on the Internet, Blockchain could help self-driving electric vehicles locate the nearest charging points and only those that they have the permission to access. Once they use the charging point, they could be billed and have the data logged and recorded for data analysis. Hence, Blockchain will help in fleet tracking and routing.
Though Blockchain fleet management solutions can answer a wide range of questions and requirements in the transport industry, Blockchain solutions are not cost-effective unless there is an IoT communications network in place that can reduce costs. Wi-Fi isn't always beneficial for IoT applications as there cannot be thousands of smart electric utility meters connected to it for the purpose of monitoring and other household or business requirements. In contrast to this, LPWAN uses little power and can connect to a whole host of fleets.
LPWAN is reliable, suitable, and extremely integral to the fleet management process. It may just lead the forefront of device data transactions.
Green Initiatives
The current Blockchain technology is extremely volatile due to its limited no and decentralized framework although Blockchain has advantages like track and trace solutions, immutability, smart contracts and asset digitalization but even after its introduction in 2009 Blockchain has not been able to get a legal status in most of the countries across the globe
Benefits Of Blockchain Technology
Companies known for fleet management for promoting sustainability in supply chain are trying to reduce their carbon footprint, air pollution and greenhouse gases by endorsing and promoting green fleet programs.
For example, some companies are reducing their overall emissions footprints from diesel vehicles by improving vehicle efficiency and lowering fuel consumption. They are also trying to reduce the emission of nitrogen oxides and carbon emissions from cars, trucks and other fleet equipment of various sizes and complexities. They do this by profiling and benchmarking a fleet's carbon footprint and try to educate their fleet managers on the impact that carbon emissions and other chemical emissions have on the air.
Combine Blockchain, a distributed ledger technology, with the carbon market and you can practically solve a major problem of the Paris Climate Agreement – carbon emission reduction by promoting sustainability in supplychain. For example, think about tokenizing carbon credits which allows for large companies to account for their environmental harm. Proceeds of the token sale can go towards reforestation efforts. There are many such incredible ideas brewing in the brains of the best of the Blockchain biz. At MSRvantage, we're just getting started!