With changing beauty standards and more users shifting towards natural and organic products and campaigning for healthy skin, the cosmeceuticals industry is undergoing rapid changes these years. Cosmetics have become an integral part of our lifestyle and not just for women, but across all genders. The industry is expected to have a CAGR of 5.3% from 2021 to 2027 and reach $463.5 billion by 2027. Let's see how blockchain in beauty is transforming the cosmeceuticals industry.
Customers are now becoming more conscious about the ingredients used to prepare skin care and beauty products and are looking forward to see more transparency and traceability in brands. Manufacturers are hence, altering their marketing and advertising strategies to incorporate more visibility in their supply chain and stay ahead in the competition.
Companies have realized that blockchain in the beauty industry offers them an upper hand in the venture. The technology is a decentralized digital ledger that keeps a record of all transactions and stores them in immutable blocks (mutable only by people with ownership). The data is accessible in real-time and provides visibility of not just the transactions, but also all the information associated with the same. This makes the data secure, at the same time, reliable. Blockchain has several use cases in all industries across the globe and the cosmeceuticals industry too, ought to benefit.

1. Counterfeit problem in the cosmeceuticals industry
Counterfeit beauty products are not new in the market. Given the escalating growth of the main industry, even the counterfeit industry is growing alarmingly. The ill effects of counterfeit beauty products know no bound. It not only affects the companies economically and takes a toll on the brand reputation, but also damages the health of the users due to the unauthentic raw materials used in the making. These products can cause diseases such as allergies, rashes, and even cancer of the skin.
Blockchain solution: Blockchain in beauty industry offers the track and trace solution in cosmeceuticals industry provides all the necessary details about a product's origin, the raw materials used, their origin, etc. With this solution, brands can offer the visibility their customers have been looking for and gain their trust.
2. Supply chain Challenges
With a market so vast, and the involvement of large-scale transportation, collaborations for raw materials and finished products, the industry faces a number of challenges in carrying forward the supply chain processes smoothly. The involvement of trusted third parties in all the supply chain transactions includes additional charges and slows down the process. Also, any kind of loan or financing to a company would take ample time, thereby indirectly affecting other important areas of the market in terms of economic and functional progress.
Blockchain solution: Blockchain transactions eliminate the need for a third party, hence reducing the cost and time. It provides access to real-time data that speeds up bank processes for financing. Blockchain in cosmeceuticals industry offers secure transactions and stores all data to offer better visibility.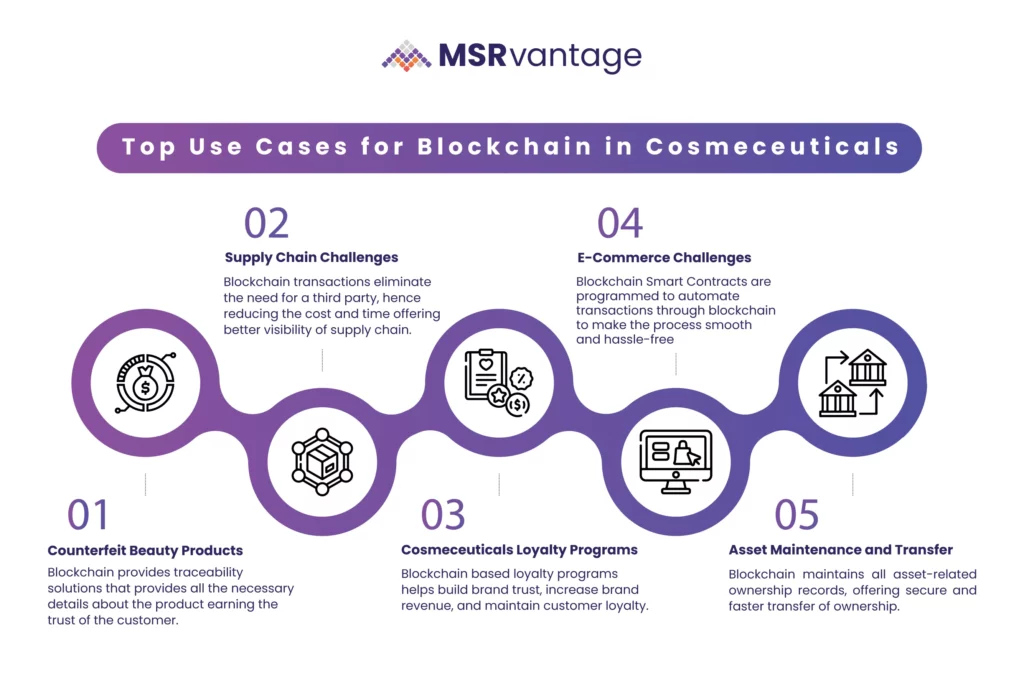 3. Rewards and Loyalty for Customers
Cosmeceuticals loyalty programs such as credit card points, discount coupons and collaborations for transactions, etcetera, play an important role in keeping the customers aboard; be it in a b2b or b2c market. It is challenging to keep track of the reward claims, expiry dates, claim transactions, and their processing for each customer.
Blockchain solution: Blockchain in beauty industry offers a reward and loyalty solution that can be put to use to deal with all reward related transactions, hassle-free. This would build trust towards the brand and increase brand revenue and help maintain customer loyalty.
4. E-commerce challenges
The beauty industry has witnessed many E-markets and businesses opening up due to the covid-19 pandemic, which has definitely impacted the final stage of the supply chain. With many new companies and parties in the picture, trust and transparency have become quite a lot challenging.
Blockchain solution: With blockchain's Smart Contracts (pre-programmed digital contracts), a trusted marketplace can be established. Parties involved in the business can ensure compliance within and outside their companies and form a trustworthy relationship with their partners. Smart Contracts can also be programmed to automate transactions through blockchain to make the process smooth and hassle-free and counter unappreciated delays due to negligence.
5. Asset Maintenance and Transfer
The Assets of the cosmeceutical industry may include a wide range of materials, machineries, and space such as the manufacturing unit, the storage units for raw materials and finished products, the transportation systems, etcetera.  Maintenance of the records of these assets in a traditional manner is challenging and prone to fraudulency.
Blockchain solution: Blockchain technology's Asset Digitization puts an end to this tiresome process. Blockchain maintains all asset-related ownership records, including shared ownership/partnership details, if relevant. The technology offers faster and secure transfer of ownership of these digital assets across platforms, thereby making transactions easier and eliminating the involvement of a third party.
MSRvantage's Blockchain technology has had a proven benefit on the beauty industry and will continue to only make progress and prepare the market for future competitions and challenges. Blockchain's various use cases such as track and trace in cosmeceuticals industry, elimination of counterfeit beauty products, cosmeceuticals loyalty programs, asset digitization, smart contracts, and many others, give the companies an upper hand. Blockchain builds the brand reputation and helps the industry meet customer expectations and needs efficiently.