When it came to the exponential rise of e-commerce and online shopping, the fashion and textile industry, particularly luxury brands, was notoriously late. With consumers' ever-changing demands, the fast pace of the retail and luxury fashion industry is rapidly accelerating. Blockchain technology has the potential to address long-standing industry issues by improving data management tools, improving supply chain operations, and decreasing the risk of counterfeit and fake products. Like the Lifestyle and apparel industry, Blockchain has grown and evolved since its inception. Although the technology was introduced relatively late in the fashion world, it has now augmented its use cases to make the sector highly efficient and transparent.
Need for Blockchain Implementation: Introduction
As customers' physical lives become more entangled with the digital space, many designers and brands must embrace cutting-edge technologies to push the boundaries of manufacturing, development, marketing, and wearability. From the most recent advances in artificial intelligence to the explosive growth of digital shopping, 3D printing, IoT integration, and Blockchain. As brands increasingly change their practices to align with the narratives of their conscious customers, like sustainability in fashion, let us look at how blockchain technology can change the image of the apparel industry and promote ethical and fair labor practices:
Blockchain Use Cases against Various Industrial Bottlenecks:
Counterfeit Garments: The median transparency score among the top 200 fashion and textile brands and retailers is only 21%. Brands can use Blockchain to digitize, monitor, and trace the complete lifecycle of a luxury product. Brands can use Blockchain to establish an immutable record of all stages in the textile and apparel supply chain, capture specific data points such as sustainability in fashion certifications and claims, and make this data publicly accessible.
Brand trust is at the top of the list for sustainable clothing purchases for nearly two-thirds (62%) of global consumers. Transparency in the supply chain boosts customer trust, which improves the customer experience and strengthens brand connectivity. Increased customer trust helps in increasing customer loyalty and lifetime value. Most consumers, however, are unconcerned regarding high-end businesses exporting counterfeit items from their stores, and products without an RFID tag or QR code are likely to be deemed fake in the near future.
Digitalization: In 2016, counterfeits worth $590 billion accounted for 3.3% of global trade. Creating "digital twins" on the Blockchain is made possible by tagging physical items with IoT, RFID tags, photography, or QR codes. These enable brands to reduce counterfeit risks by electronically tracking products throughout the textile and apparel supply chain and after being sold. This blockchain-based digital representation of the product allows stakeholders to access tracking data and transact in real-time. Brands have used AI to improve their customers' shopping experience, analyze data, increase sales, forecast trends, and provide inventory-related guidance in recent years. In-store chatbots and touchscreens are being used to improve customer experience and personalized product recommendations.
Customer Loyalty: While 80% of luxury fashion sales today are "digitally influenced" worldwide, the value of loyalty programs is generally restricted to a few jurisdictions. Customers' perceptions of seamless global transactions rise as they embrace international lifestyles. Tokenization opens the door to a new loyalty program paradigm, allowing luxury shoppers to transact with partners other than the brand.
Changing Customer Demands: With more than half of the world's population now using social media, it has evolved into an expert platform to connect brands directly with consumers. Social media has aided brand owners in closing the communication gap between them and their consumers. Today's consumers buy apparel from businesses whose ideology captures their personal opinions or morals. Brands are changing their practices gradually to align with the narrative of their conscious customers. Because Blockchain is an open-source technology, consumers can inspect each product at every stage of the product lifecycle and ensure that the garment has gone through a cycle that conforms to their beliefs.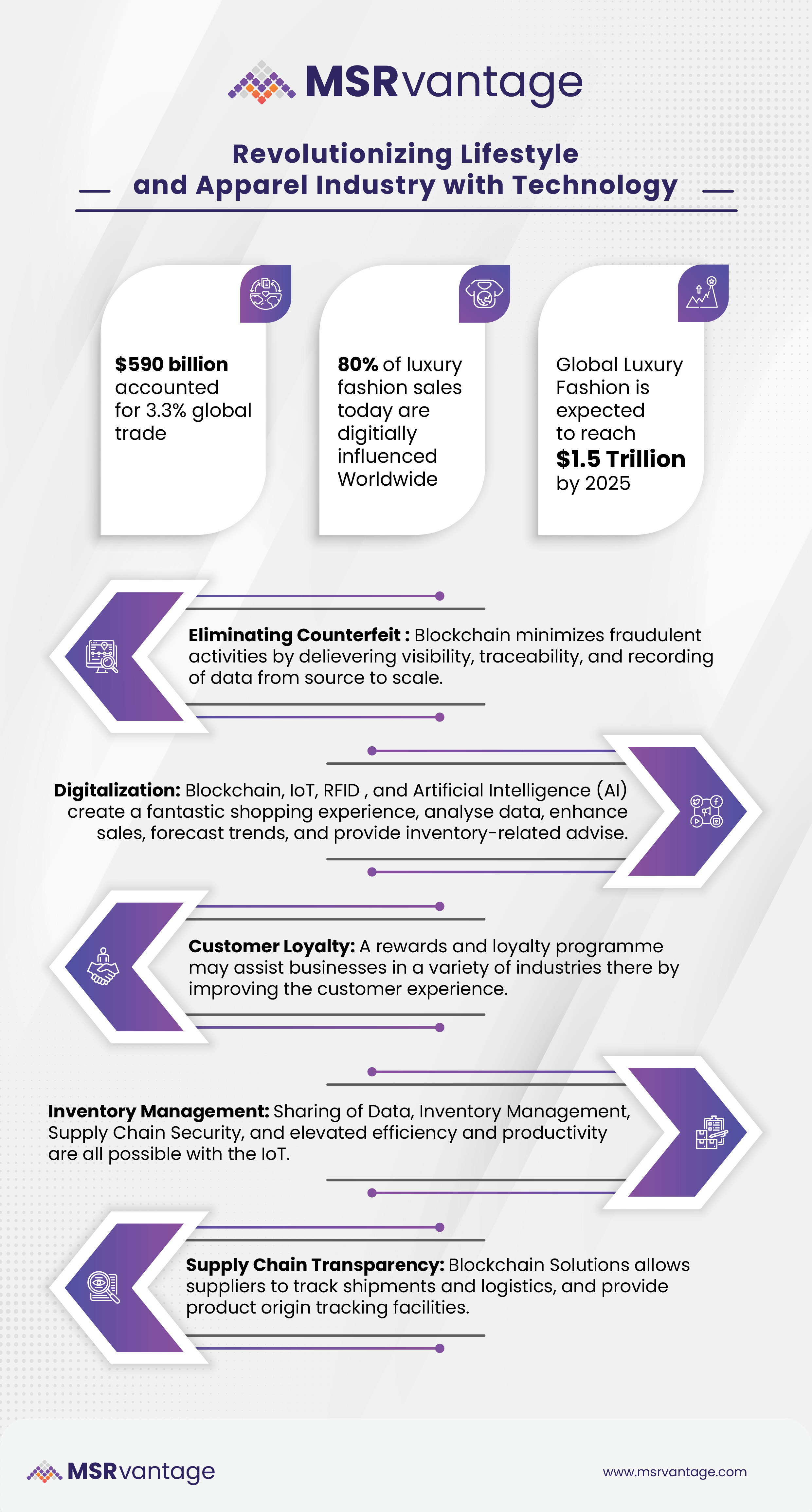 Precise Checkout Processes: The different stakeholders participating in a production and distribution line are currently equal to the number of individual records. However, Blockchain in the fashion and textile industry unites the entire supply chain ecosystem on a centralized digital platform. This helps save weeks for determining the origin and supply line of the material. Blockchain technology reduces operational costs by providing three benefits: accurate data management, evolving supply chains traceability, and lowering the risk of counterfeiting. It offers a simple interface for data reconciliation across operations and service lines.
Labour Exploitation: Businesses can now view data about the employees involved in a specific product's textile and apparel supply chain because of the transparency provided. Over the years, there have been numerous headlines about the poor working conditions or the pay of some high-street retailers' employees; however, introducing Blockchain into the fashion industry can help display problems, monitor, and enhance organizational welfare. This could be accomplished through the Blockchain's transparency of pay or hours worked. The Blockchain adds a compelling value proposition for sustainable clothing shoppers by allowing all sustainability in fashion claims made by retailers to be digitally verified.
Inventory Management: Real-time inventory tracking is becoming increasingly crucial for brands as it saves time and allows for more efficient warehouse management and operations. Furthermore, brands could gain a significant competitive advantage by combining inventory management systems with AI's efficient and scalable prediction tools for future trends forecasting. Brands now have instant access to data to plan suitable styles and quantities promptly. Sharing of data, inventory management, Supply chain security, and elevated efficiency and productivity are all possible with the Internet of Things (IoT). Many businesses see IoT improve their customer experience by offering digitally-enabled apparel such as sustainable clothing, smart clothing, multi-functional designs, responsive sportswear, etc.
Supply Chain Transparency: The global luxury fashion market is expected to reach €1.3 trillion ($1.5 trillion) by 2025, with young consumers accounting for half of the total market. As millennials and generation Z consumers account for 85% of global leisure sales growth, the expectation for premium brands to align with their values grows. Blockchain technology enables brands to effectively manage their textile and apparel supply chain processes from raw materials to final users and handle large data sets more efficiently and transparently. No more worrying about items and parcels getting 'lost' in the mail – with Blockchain, both buyers and sellers can see exactly where the products are, including GPS navigation tracking from the distributor's warehouse to the consumer's front door verification via RFID Tags.
Conclusion:
There are numerous reasons to anticipate the integration of Blockchain in the fashion and textile industry. Online shopping will be much easier than before, the welfare of workers in large corporations' supply chains will improve – verifiably – and the number of counterfeit items will decrease. Businesses can save money and find new ways to reduce their carbon footprint as it becomes more visible. Finally, Blockchain technology is facilitating deeper relationships between brands and consumers. Blockchain adoption in the fashion industry will benefit consumers, retailers, suppliers, workers, and shareholders.
MSRvantage's Blockchain solutions for the Fashion Industry:
MSRvantage Track and Trace solutions provide comprehensive and dependable methods for improving security and providing end-to-end visibility among trading partners. Track and Trace solutions enhance the security of data exchange and workflow. MSRvantage Asset Digitization facilitates the management and exchange of digital assets among various parties in a shared business network. MSRvantage Smart Contracts increase security by eliminating the possibility of deletion, manipulation, or revision. As a result, there is a more verifiable method of integrating rules and policies. The MSRvantage Rewards and Loyalty Program can assist businesses in retaining customers by improving the customer experience. Our Rewards and Loyalty Program allows owners and users of multiple programmes to connect.