Post-Covid, due to acceleration in digitization, e-commerce has become beneficial to consumers. But the lack of safety measures concerned with online sales, legal compliance, and investigative agencies has made companies more vulnerable to counterfeiting and theft. There is an increase in the production of fake and counterfeit products due to a lack of anti-counterfeit measures. Since the market is growing rapidly, the consequences of these foul practices result in revenue loss and irreversible damages to brands. Much worse, the consumption of such counterfeit products in the name of luxury brands lays a far more dangerous effect on the health and safety of consumers.
Counterfeit products can cause harm and pose serious safety problems for everyone involved. Therefore, in order to expand the scope across a wider market, accelerate business values, and take on the counterfeit products and packaging flooding the markets, perhaps it's time for organizations to invest their no infrastructural cost in safety standards such as anti-counterfeit measures and packaging.

In today's scenario, digital anti-counterfeiting packaging solutions have become the ultimate solution for averting challenges such as economic impairments, serious health hazards, and online fraud. Due to the increasing focus of manufacturers on brand protection in order to reduce counterfeiting, the anti-counterfeit packaging market is expected to witness high growth. As a result, the global anti-counterfeit packaging market size is expected to extend from USD 117.2 billion in 2021 to USD 211.3 billion by 2026, at a CAGR of 12.5% from 2021 to 2026. Globally, various types of anti-counterfeit packaging solutions are preventing the theft and counterfeiting of all vulnerable products. Thereby saving the lives and economic well-being of consumers. Due to increasing product quality concerns and safety awareness in recent years, the traceability solutions market has been increasing in significance and spreading into a wide range of fields such as manufacturing, automotive, retail, pharmaceutical, logistics, banking, finance, etc. Therefore, manufacturers are integrating the following blockchain-enabled measures, such as microchip-fitted RFID (Radio-frequency identification tags) tags, security seals, barcodes, security, printing, smart labels and holograms, mass encoding, digital encryption, and serialization into the packaging to reach ahead of the counterfeit industry:
BLOCKCHAIN-ENABLED ANTI-COUNTERFEITING

Blockchain-enabled anti-counterfeiting packaging and traceability enable you to track and trace information on products. Implementing traceability solutions can enhance transparency and visibility across the supply chain. Traditional packaging and traceability solutions being centralized are open to concerns such as single point failure, counterfeits, data manipulations, etc. With blockchain, a distributed ledger technology uniquely used for sharing and reconciling information, companies can easily tackle all the drawbacks of centralized traceability solutions. One of the efficient ways to ensure anti-counterfeiting is secure packaging. Secure packaging is one of the fundamental techniques to avoid counterfeiting products. Anti-counterfeiting packaging is the procedure of secure packaging that discourages fabrication and guarantees the safety of the goods. It can be further described as the process of appointing secure packaging to the product to eliminate counterfeiting or breach. Anti-counterfeit on product packaging are measures taken by companies to minimize the loss due to counterfeiting in-term of revenue and loyalty. It informs the end-user about the authenticity of the product.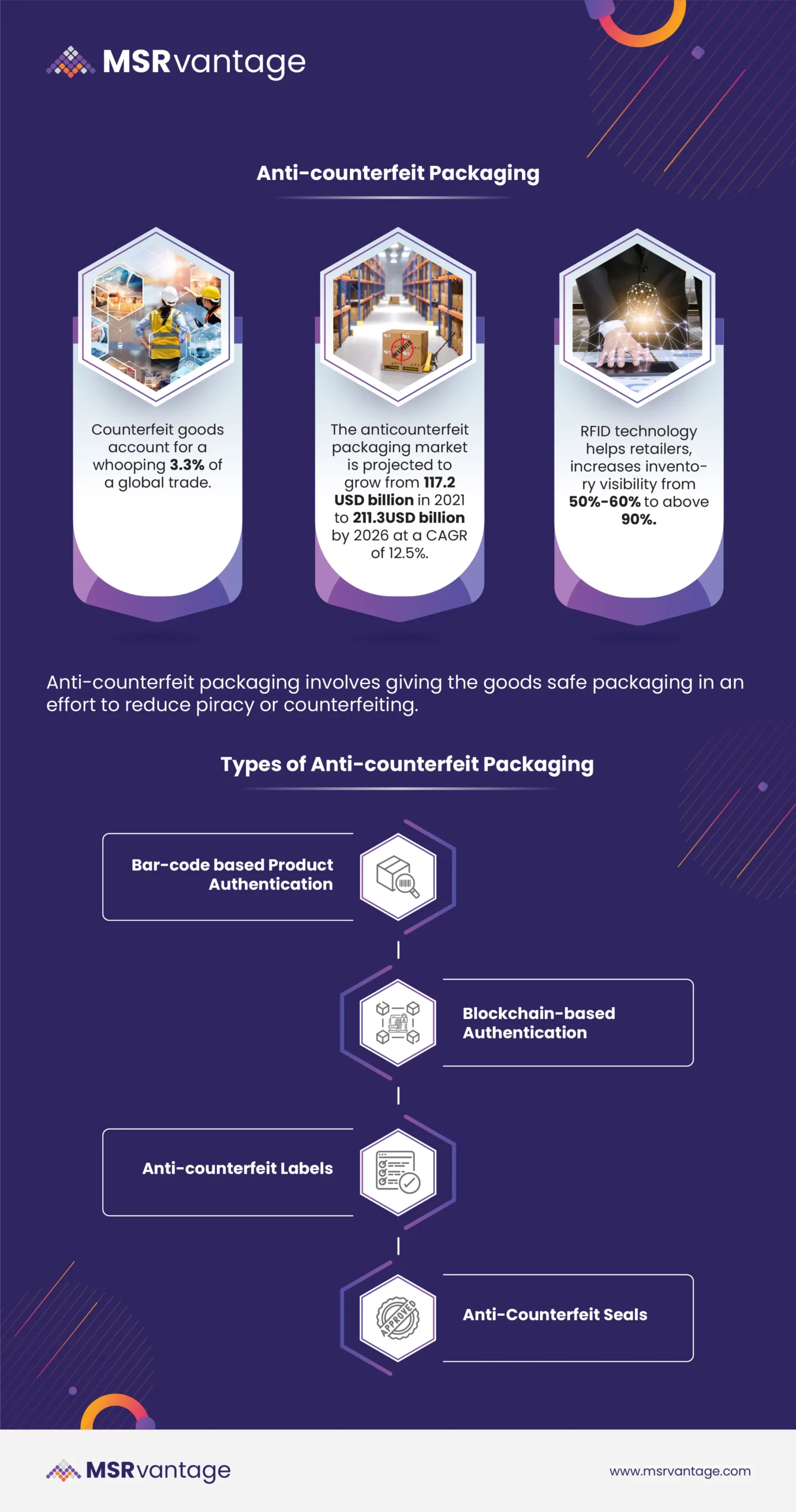 This further helps consumers decide whether a purchase should be made or not. Besides, it comes with the benefits like customer data collection, digital warranty management, loyalty programs, etc. The most crucial part of digital anti-counterfeiting packages is that smartphones can be used as consumer-usable solutions. For instance, without the need of downloading any app, QR codes can be simply used for scanning and learning the authenticity of the product.
Users these days are equipped with smartphones. Hence, it becomes easy for them to scan processes and can authenticate individual products convincingly.
In addition, we all are aware that digital technology is making a powerful mark in the world of Marketing and Data collection. Blockchain-enabled anti-counterfeit package secures QR Codes with an integrated loyalty and data collection solution. This further helps the organizations construct a 2-way digital communication with their best consumers and automatically engage them for repeat sales. Dashboard tools provide consumers with the best of their services by automating sending emails, SMS, and Push Notifications and managing user feedback, support,
and loyalty-related tasks.
CONCLUSION

With the latest anti-counterfeiting packaging techniques, organizations and brands powerless against counterfeiting and theft can ensure and retain their business reputation.
Such solutions are more affordable and user-friendly. Thus, such technologies are more convenient for organizations to use than other complicated tools. With MSRvantage, unleash the enormous potential of the distributed-ledger technology, and leverage the power of one-of-a-kind anti-counterfeiting technique for your industry. By providing a complete view of the complex product journey, MSRvantage Track and Trace help enterprises fight fraud and counterfeits. Industries and organizations across various sectors can rely on MSRvantages solutions for speed, transparency, traceability, efficiency, and accuracy.