Fleet management has become one of the key inventions for businesses that operate fleets in the digital realm. GPS systems have changed the way fleets operate, resulting in increased productivity, driver safety, and security. Choosing the right telematics solutions will reshape your fleet management company's future. The information that can be gathered is crucial to how operators manage their resources. To avoid any stressful situations, it is critical that you select an accurate fleet solution.
It is critical to measure the impact of an enterprise telematics solution and fleet management system on your bottom line. We recognize that the solutions under consideration are closely intertwined with productivity, high performance, and company policy compliance. More importantly, the solution you choose influences any deviance in business objectives, the ability to solve real-time problems, and the associated costs. So, here are some of the most important factors to consider before investing in the best fleet management platform for your company:
GPS Tracking: Because fleet tracking is such an important part of fleet management, it must be the best in the industry. The telematics solution you choose should have good visibility and provide real-time vehicle data. To ensure smooth delivery, GPS allows drivers to avoid overcrowded construction roads. It also assists administrators in simplifying workflow and keeping track of vehicle performance.
Safety: Telematics solutions should increase safety by reporting risk and driver behavior, providing crash notifications and restoration, and locating a burglary. A good telematics solution can protect your vehicles by providing functionality such as incident analysis, alerts regarding current fuel levels, and when blended with the optional camera features, a clear picture of driving incidents, car crashes, and close calls.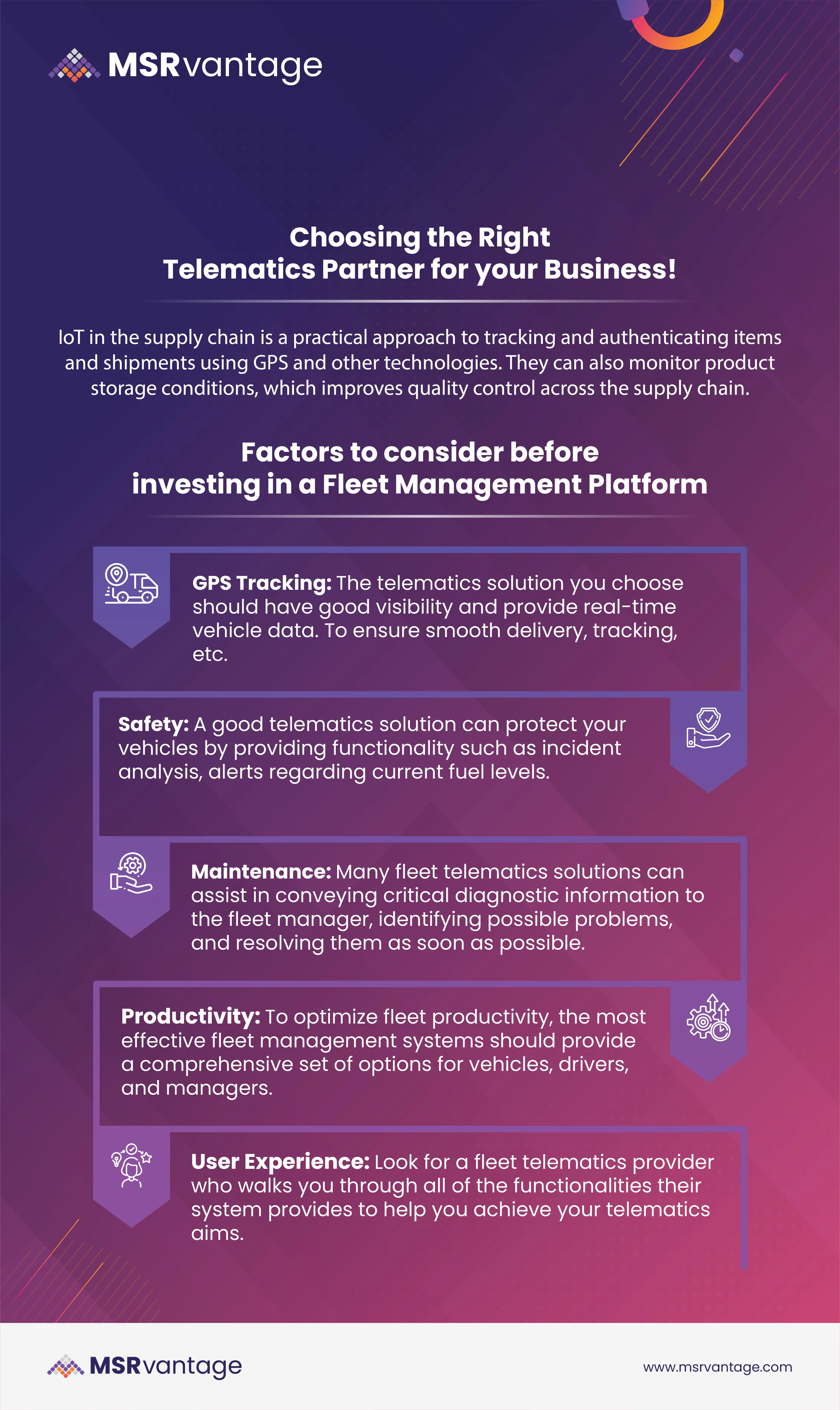 Maintenance: Every vehicle requires routine maintenance. Every day, countless vehicle components degrade over time, which, if left alone for too long, can induce a failure or increase the risk of an accident on the road. Many fleet telematics solutions can assist in conveying critical diagnostic information to the fleet manager, identifying possible problems, and resolving them as soon as possible. This can help to avoid accidents and expensive repairs by utilizing low-cost fixes.
Productivity: Vehicle efficiency in terms of fuel consumption, route efficiency, compliance, and safety will all make your fleet more productive by reducing downtime for accidents and maintenance. To optimize fleet productivity, the most effective fleet management systems should provide a comprehensive set of options for vehicles, drivers, and managers.
User Experience: Select a provider who is determined to make your life more convenient. Modifications can occur regularly, whether it is changing driver- the vehicle assigned tasks or modifying itineraries. Fleet telematics should allow what used to take forever to be completed in a short amount of time. Remember to look for a telematics fleet management solution provider who provides excellent customer service. Look for a fleet telematics provider who walks you through all of the functionalities their system provides to help you achieve your telematics aims. They should provide mentoring and troubleshooting, as well as 24/7 customer service.
Issues to consider when selecting a telematics solution
Data Insight Tool: When choosing a telematics system, the most significant element to look for is a dashboard. Reports give fleet managers a better understanding of their drivers' and vehicles' performance, allowing them to focus on cost savings and other efficient operations.
Real-Time Visibility: Fleet telematics and GPS tracking provide real-time visibility into the location and movements of your fleet. This system allows you to track journeys and vehicles from beginning to end. The user can produce and send real-time notifications about the location of your fleet vehicle, whether it's static or moving. You can see data on exceeding the speed limit, driving direction, engine status, traffic violations, previous trips, etc.
Technical Support: To provide a desirable service, you'll need technical experts who can assist you with everything from implementing the proposed system in your business to client support. You must have a technical team that is always available to assist with database and software problems.
Software: To improve user usability, fleet telematics systems are increasingly moving toward simplified interfaces. You don't want to have to click around to find what you're looking for, or you don't want to forfeit that document you've been working on for hours. Look for a fleet telematics solution that is simple to use and places important data at your fingertips.
Making the right choice for your organization
Select features that will meet all your requirements. The functionalities and potential solutions should correspond to your long-term priorities. The best way to ensure that a solution is adjusted to your needs is to choose the features that will assist you in getting there. The key point to remember is that the features your fleet requires are entirely dependent on the business challenges you want a vehicle telematics system to solve.
Fleet telematics is one way for businesses to differentiate themselves and improve operational efficiency. Implement MSRvantage telematics solution to cut costs, increase security, and achieve superior scalability. To begin the process of investing in-vehicle telematics, contact the leading team of fleet industry experts at MSRvantage to discuss the features that will be most beneficial to you. MSRvantage fleet experts have extensive experience matching businesses like yours to the technology that will benefit them the most.